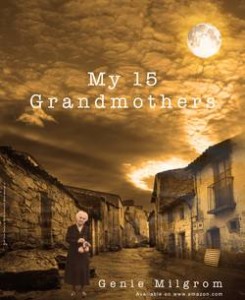 Last week on the Forget-Me-Not Hour, Genie Milgrom joined me to talk about her fascinating story of genealogical research and spiritual discovery, which she shares in her book My 15 Grandmothers. Genie was born and raised in a Catholic family, exiles from Cuba. As an adult she converted to Orthodox Judaism and began to seriously research her maternal ancestry. She discovered that she descends from Jews in Spain who hid their Jewishness from the Spanish Inquisition by becoming Catholic. These people are variously called Crypto Jews, Converso Jews, or Marrano Jews.
Genie talked about the customs her grandmother passed on to her that turned out to be clues that the family was Converso Jewish. One of the signs was sweeping debris to the middle of the room and not out the door, where on the doorframe a mezuzah would be located in an openly Jewish household. A mezuzah contains
verses from the Torah. Genie also received a Star of David earring when her grandmother died.
Genie shared how a family can determine through the documents in Spain if they have Converso Jewish ancestors and what she is doing to help those who are embarking on this journey now. Genie explained how finding out about this hidden Jewish past in a Catholic family can be upsetting to some family members.
In addition to My 15 Grandmothers, Genie wrote another book on how to find your Crypto Jewish ancestry.
You can order the books from Genie at her website http://www.geniemilgrom.com/
Listen to Genie's fascinating story here: http://www.blogtalkradio.com/janeewilcox/2014/05/22/my-15-grandmothers-a-story-of-crypto-jews-with-genie-milgrom
Posted on by Jane Wilcox
Categories
Tags
---
---