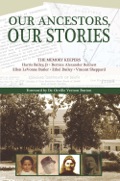 Last week on The Forget-Me-Not Hour, I welcomed four of the five co-authors of the book Our Ancestors, Our Stories to the show. Joining me from different parts of the country, Bernice Bennett, Harris Bailey Jr., Vincent Sheppard and Ellen Butler talked about their collaboration on the book that tells the story of their African American ancestors who lived in the Old Edgefield District of South Carolina. The fifth co-author is Ethel Dailey.
Like he does in the book, historian Harris Bailey, the only author without ancestors in Edgefield (his wife is the one with Edgefield ancestry), talked about the history of the area and set the historical context. He took us from slavery to Reconstruction.
Bernice, Vincent and Ellen then shared their journey of discovery, talking about their genealogical research that took them all to
Edgefield. They shared some of their ancestors' stories and some of the surprising and significant things that they found in the process of their research. All three successfully traced their Edgefield ancestors back into slave times, a particularly challenging (and rewarding) accomplishment for African Americans. Each then shared what was most difficult in terms of genealogical research in the Reconstruction era and later.
As Bernice mentioned on the show, the book is a wonderful legacy for their descendants, as well as a beautiful tribute to the ancestors who lived in Edgefield, South Carolina. Listen to the rest of the show here: http://www.blogtalkradio.com/janeewilcox/2014/04/17/our-ancestors-our-stories-of-sc-african-americans-with-the-memory-keepers-1
Find the book, Our Ancestors, Our Stories here: http://thememorykeepers.net/
Posted on by Jane Wilcox
Categories
---
---