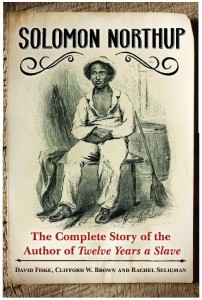 This week Solomon Northup biographer David Fiske joined me on the Forget-Me-Not Hour to talk about his co-authored book Solomon Northup: The Complete Story of the Author of "Twelve Years a Slave." David joined me on the show from Saratoga County, New York, where Northup, born a free black man in New York, was tricked and then kidnapped into slavery in 1841. Northup was sold as a slave in Washington, D.C. and was taken to Louisiana where he lived in bondage for 12 years.
David recounted Northup's early life in upstate New York, where he was educated and taught to play the violin. Like many of his Washington County, New York neighbors, Northup worked a variety of jobs to make a living for his family. He farmed, he did carpentry, he logged, he rafted on the canals. He had a number of skills, which helped him survive the ordeal of slavery. He also knew how to swim, which saved him on one occasion in the water moccasin- and alligator-infested waters of Louisiana.
David talked about how he first learned about Northup at the Old Fort House and how his interest in Northup's story led to the collaboration with Clifford W. Brown and Rachel Seligman on the book. The book focuses mainly on Northup's life as a free man before and after slavery, leaving the slave years for Northup to tell in his own book Twelve Years a Slave, which he published shortly after his rescue in 1853.
David explained how Northup was rescued and how the trials of his kidnappers and sellers unfolded. During the second trial — that of the kidnappers, newspapers erroneously ran stories that Northup allowed himself to be sold into slavery in collusion with the two men who pocketed the money from his sale. Northup vehemently denied these allegations, and David noted that unfortunately today people on the Internet are continuing to spread this falsehood.
There is evidence that Northup worked with a minister in Vermont to help escaped slaves make their way to Canada on the Underground Railroad.  Listen to the whole story from David Fiske: http://www.blogtalkradio.com/janeewilcox/2014/02/05/12-years-a-slave-solomon-northup-before-and-after-in-upstate-ny 
Unfortunately, the call was ended abruptly at the end; however, we were just wrapping up the interview so nothing but David's ancestry was lost on the air.  Both of David's family lines came to America from England in the 1600s. Fiskes settled in Rhode Island, and Peleg Fiske took his family to Killingly, Conn. in the 1830s. On the maternal side, it's Fogg, and a Daniel Fogg was an early settler of Scarborough, Maine.
Find David's book here http://solomonnorthup.com/
Posted on by Jane Wilcox
Categories
---
---