About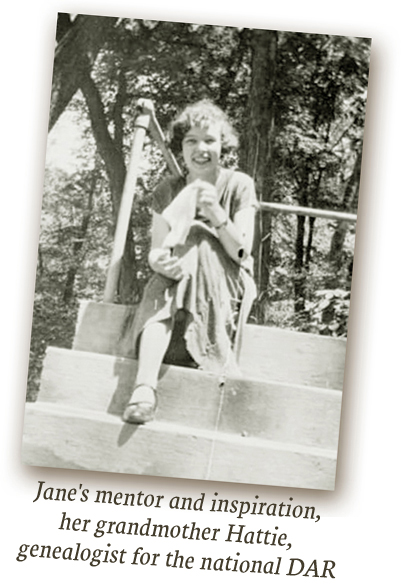 Fascinated with genealogy and history since I was a kid, I've been digging around in my own ancestry backyard for decades and doing it professionally for more than a decade. I learned on the lap of my grandmother, national genealogist for the Daughters of the American Revolution, and through the years I've come to see that I have a sixth-sense when it comes to genealogy research. I was born to do it.
I love the detective work ~ the sleuthing ~ involved in genealogy research. I know how to find the sources that provide clues and answers to ancestry questions, and more importantly, as a historian I know how to analyze the data. I have a gift for seeing relationships and noticing bits of information that many others do not.
I immerse myself in the lives of the people I'm researching ~ often traveling to where they lived to get a better sense of their land, their communities and their lives ~ and I frequently get an instinctive insight on where to go next in the search.
My undergraduate degree in colonial American history and English literature from the University of Michigan in Ann Arbor and my master's degree in journalism from Northwestern University in Evanston, Ill., plus a teacher's certification from the University of Wisconsin-Parkside in Kenosha, Wis., provide an excellent academic foundation on which to base my genealogy research. I know U.S. and New York history!
I was also an editor and writer of a monthly magazine and a teac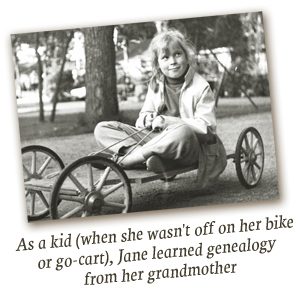 her in the Racine, Wis. public school district.
I have attended these institutes, conferences, and workshops to further my education:
Beyond Fundamentals: Hands-on Forensic Genealogy with Catherine Wiest Desmarais, Genealogical Research Institute of Pittsburgh (GRIP), June 2021
Turning Masses of Information into Useful Case Studies with Harold Henderson and Thomas W. Jones, Board for the Certification of Genealogists (BCG), March 2021
Advanced Methodology and Evidence Analysis with Judy Russell, Institute of Genealogy and Historical Research (IGHR), July 2020
From Confusion to Conclusion: How to Write Proof Arguments with Kimberly Powell and Harold Henderson, Genealogical Research Institute of Pittsburgh (GRIP), June 2018
DNA and Family History: A Seminar for Genealogists with Blaine Bettinger and Angie Bush, NY Genealogical and Biographical Society, New York City, October 2017
Connecting the DNA Dots workshop with Blaine Bettinger, Angie Bush, and Diahan Southard, Federation of Genealogical Societies Conference, Pittsburgh, September 2017
DNA Boot Camp with CeCe Moore, Karen Stanbury and Paul Woodbury, Salt Lake Institute of Genealogy (SLIG), January 2017
Practical Genetic Genealogy with Debbie Parker Wayne, Blaine Bettinger and CeCe Moore, Genealogical Research Institute of Pittsburgh (GRIP), June 2015
Forensic Genealogy Master Practicum, Council for the Advancement of Forensic Genealogy: Forensic Genealogy Institute, Dallas, March 2015
National Genealogical Society conferences, 2012-2016 and 2002, speaker and attendee
New York State Family History conferences, 2015-2022, speaker and attendee
New England Genealogical Research conferences, 2011, 2015, and 2017, speaker and attendee.
In addition to Association of Professional Genealogists, I am a member of the National Genealogical Society, the New York Genealogical and Biographical Society (and member of its Education Committee), the New England Historic Genealogical Society, the Suffolk County (Long Island) Historical Society and Museum, and the Racine (Wisconsin) Heritage Museum, as well as past member of the Connecticut Society of Genealogists.
Every family has a unique story to tell ~ how can I help you with yours? Your ancestors want their stories to be told.
Call me at 845-430-9582 or fill out the form here for a complimentary consultation.