The Forget-Me-Not Hour: Your Ancestors Want Their Stories to Be Told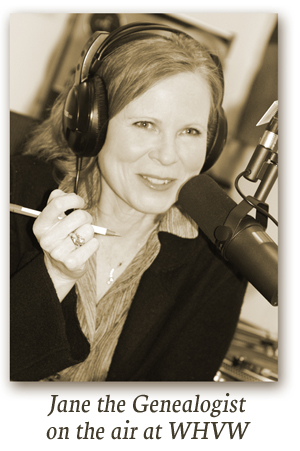 Jane hosted The Forget-Me-Not Hour: Your Ancestors Want Their Stories To Be Told podcast on BlogTalkRadio.com for 6+ years. Begun on 950 AM radio in Poughkeepsie in November 2010, Jane's show featured interviews with local, regional and national genealogy and history guests, a little music, and lots of genealogy tips. The show went on an indefinite hiatus in June 2017. All episodes are archived.
Regional focus shows: Hear from scholars, archivists, government officials, curators, authors, and others who are keeping the history and genealogy of the Hudson Valley in New York and beyond alive and well. Listen to the archives episodes on-demand anytime on  BlogTalkRadio.com/JaneEWilcox or on iTunes for JaneEWilcox.
National focus shows: Join nationally-known genealogists, authors, bloggers, historians, and more on this show focusing on the rest of the U.S. and the world.
Listen to previous recordings on-demand on BlogTalkRadio.
Broadcasts have included:

Robert Charles Anderson, director of the Great Migration Project of the New England Historic Genealogical Society, on the Puritans, the Winthrop Fleet and The Great Migration Directory.
Thomas W. Jones, on his book, Mastering Genealogical Proof.
Megan Smolenyak, on Michelle Obama's family history and her work with missing U.S. soldiers.
Dick Eastman, author of Eastman's Online Newsletter, on the history of computers and genealogy and live from the Who Do You Think You Are? LIVE event in London.
Genie Milgrom, on her book, My 15 Grandmothers: A Story of Crypto Jews.
The Forget-Me-Not Hour radio show sponsors: