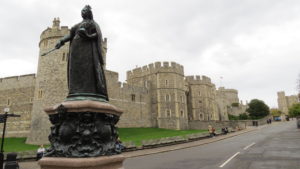 Copyright © Jane E. Wilcox, Forget-Me-Not Ancestry, Albany, NY www.4getmenotancestry.com.
In September 2017 I led a tour to Derbyshire, England, in search of my Puritan ancestors William Wilcockson and his wife Margaret. They came to New England on the Planter in 1635 with their two-year-old son John Wilcockson and Ann Harvie, whom I believe to be Margaret's sister. They came during the Puritan Great Migration 1620-1640. With them on the Planter were Margaret's first cousins Richard Harvie and his sister Mary Harvie with her husband William Beardsley and their three children Mary, John and infant Joseph. This homecoming trip with my cousins in 2017 culminated my research on the Wilcocksons of Biggin-by-Hulland, the Harvies of Ilkeston and their minister Rev. Adam Blakeman/Blackman (who founded Stratford, Conn. with them in 1639) that I undertook on three genealogy research trips to England between 2000 and 2015.
On this trip my cousins and I followed in the footsteps of Puritan William and Margaret Wilcockson (not spelled Wilcoxson as many have tried to modernize it) from their origins in Derbyshire, England, to their exposure to non-conformist ideas that eventually caused them to emigrate to America, to the churches they attended, to their dissenting Puritan network of family and friends, to their journey to the port of London to take passage on the Planter in 1635. While in England I sent daily emails to about 50 of my extended family and friends, as I had done in the past with the three other research trips, sharing our journey with them. The emails sent during the trip have been expanded and fact-checked to present here as blog posts. When you are reading my account of Puritan William in England, keep in mind that this is a  proposed family of origin for William Wilcockson of Stratford, Conn. based on the evidence in the available records. Think "probable" and "probably" when you read Puritan William's story. 
Down the road I will write a series of articles giving the documentary evidence as to why I believe Puritan William was the son of tanner William Wilcockson and his first unknown wife from Biggin-by-Hulland, Derbyshire, and why Puritan William's wife Margaret was Margaret Harvie, daughter of weaver James Harvie and his wife Elizabeth Winfield from Ilkeston Derbyshire — and not Margaret Birdseye or Birdsey as has long been erroneously held. These articles will contain more details and all of the sources I used to compile the evidence, as well as the genealogies of the Wilcockson, the Harvie and the Blakeman families in England in the 1500s and early 1600s.
Day 9
We had another whirlwind day for our last day in England. We were out the door of the hotel at 8:15 to catch the
Tube to Waterloo Station for a 54-minute train trip to Windsor. There Chet, Marilyn, Pat and I met up with cousin Deb again. She lives only 20 minutes from Windsor. Deb met us at the train station and we walked over the Thames into Eton. Deborah belongs to a vernacular architecture group so she pointed out interesting features of the buildings as we walked to Eton, the prep school. At Eton we saw a few of the students whose uniforms are white ties and black tails. Even the teachers wore the same uniform, but they didn't have tails on their jackets.
(In London we passed a lot of kids on their way to school all the days we were there. Every kid wore a uniform, which I think needs to be done in the States for public schools to level the playing field — that coming from a former public school teacher. Kids in their uniforms going to school sped down the sidewalks on their scooters, dodging pedestrians along the way.)
We walked back to Windsor and had high tea as we sat looking at one of the walls of Windsor Castle. Deborah suggested that we do high tea for lunch since it included four types of finger sandwiches: salmon (perhaps lox), eggs and mayo, cucumber and some type of cheese, and ham and cheese. In addition each person received two scones (one plain and one with golden raisins) with Cornish clotted cream and jam plus patisseries (pastries). The scones were some of the best I've ever had.
Then there was the tea. I chose Darjeeling as did Marilyn, Pat had Assam, and Chet and Deb had English breakfast. I've become a tea drinker on this trip. I've never had so much tea in such a short span in my life – and I like it now! I'm coming home with Yorkshire tea (which Wendy in Biggin served us on the first day) and a chai tea (which I loved when I lived at an ashram in NY and India but even with that I never got into a regular tea habit). Chai is a black tea with wonderful spices like cardamom, cinnamon, and cloves.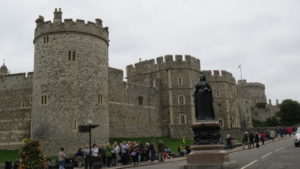 After lunch we toured Windsor Castle. I didn't have a chance to meet my cousin Lillibet as she was not yet there for the weekend. Windsor was wonderful! The round tower (below right) was built by my grandfather Guilluame (in French) after he conquered England in 1066. He wanted to establish Norman supremacy and had towers/palaces built in strategic places. Windsor was one of them.
We walked through the State Apartments which are used to greet dignitaries when cousin Lil is in residence. We walked through tons of armor (much of it pilfered from enemies throughout the centuries), tons of paintings of kings and queens (did you know George III – our favorite king in the U.S. – looks amazingly like George Washington in this one painting?), and tons of china. I recognized a few of the art masters whose works are part of the collection at Windsor — Breugel, Titian, Van Dyke. Mary, the wife of George V, was given a doll house depicting rooms from the early 20th century that has running water and electricity. This was on display too.
As we walked through Windsor town and castle I pelted Deborah with questions about the monarchy and its history. I learned the wealth of the crown (the monarchy as an institution) is separate from the wealth of cousin Lil herself. Parliament and the people support the crown, the holdings of which include Windsor Castle. When the monarchy was abolished under Cromwell shortly after my Puritan William and the Derbyshire folks left, the crown jewels were melted down (the metal,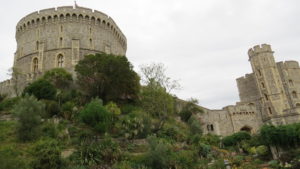 that is) – presumably to supply liquid cash to the Commonwealth – or perhaps to the coffers of Cromwell and his inner circle. (I'll have to research that.) When Charles II was installed as king after the Commonwealth, new crown jewels were created as well as new coronation banquet bowls and such. These all belong to the crown – not the person. Queen Victoria had the koh-i-noor diamond in her crown and it was reset into the crown of Lil's mother, the Queen Mother.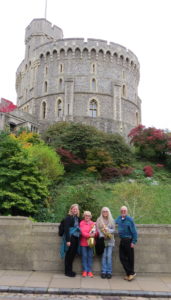 Many of the State Apartment rooms were re-done by Charles II when the monarchy was restored in the 1660s – apparently to restore the rooms from what may have happened to them during the Commonwealth period. (Again, I need to research this to verify it.) For the most part, we didn't see many objects, furniture, or paintings from prior to the Commonwealth.
We didn't have time to go into the chapel at Windsor Castle where Henry VIII and the Queen Mother are buried. Instead we watched a female warder on duty. I didn't recognize her as female at first — until she was on the move and her hair bun was clearly visible. Go, girl!
For our last dinner in England Chet and I had beef stroganoff with rice (not noodles) at a restaurant near our hotel. We stayed at a great location in Kensington – safe and an easy walk to the Tube station (Gloucester Road).
If you're wondering about Barry today, he met a friend of his from Florida who now lives in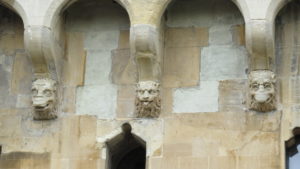 London, rented a bike and rode around the city, went to City Center to a market, and found the works of a famous graffiti artist. On our way back from Windsor we wondered how we were going to meet up with him since we hadn't discussed that before we departed. As we were walking toward the hotel to drop off our things before dinner, there comes Barry walking toward us. Perfect timing! He was on his way to watch a local football (soccer) game that his friend had recommended.
Tomorrow my last thoughts, things I meant to tell you but forgot when I wrote the emails, and important information about the Wilcockson research.
Cheers!
Posted on by Jane Wilcox
Categories
---
---