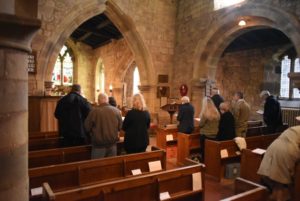 Copyright © Jane E. Wilcox, Forget-Me-Not Ancestry, Albany, NY www.4getmenotancestry.com.
In September 2017 I led a tour to Derbyshire, England, in search of my Puritan ancestors William Wilcockson and his wife Margaret. They came to New England on the Planter in 1635 with their two-year-old son John Wilcockson and Ann Harvie, whom I believe to be Margaret's sister. They came during the Puritan Great Migration 1620-1640. With them on the Planter were Margaret's first cousins Richard Harvie and his sister Mary Harvie with her husband William Beardsley and their three children Mary, John and infant Joseph. This homecoming trip with my cousins in 2017 culminated my research on the Wilcocksons of Biggin-by-Hulland, the Harvies of Ilkeston and their minister Rev. Adam Blakeman/Blackman (who founded Stratford, Conn. with them in 1639) that I undertook on three genealogy research trips to England between 2000 and 2015.
On this trip my cousins and I followed in the footsteps of Puritan William and Margaret Wilcockson (not spelled Wilcoxson as many have tried to modernize it) from their origins in Derbyshire, England, to their exposure to non-conformist ideas that eventually caused them to emigrate to America, to the churches they attended, to their dissenting Puritan network of family and friends, to their journey to the port of London to take passage on the Planter in 1635. While in England I sent daily emails to about 50 of my extended family and friends, as I had done in the past with the three other research trips, sharing our journey with them. The emails sent during the trip have been expanded and fact-checked to present here as blog posts. When you are reading my account of Puritan William in England, keep in mind that this is a  proposed family of origin for William Wilcockson of Stratford, Conn. based on the evidence in the available records. Think "probable" and "probably" when you read Puritan William's story. 
Down the road I will write a series of articles giving the documentary evidence as to why I believe Puritan William was the son of tanner William Wilcockson and his first unknown wife from Biggin-by-Hulland, Derbyshire, and why Puritan William's wife Margaret was Margaret Harvie, daughter of weaver James Harvie and his wife Elizabeth Winfield from Ilkeston Derbyshire — and not Margaret Birdseye or Birdsey as has long been erroneously held. These articles will contain more details and all of the sources I used to compile the evidence, as well as the genealogies of the Wilcockson, the Harvie and the Blakeman families in England in the 1500s and early 1600s.
Day 4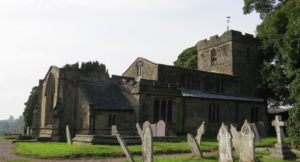 Today we went to the Sunday service at Trinity Church in Kirk Ireton, with cousin Robb joining us again for a second day.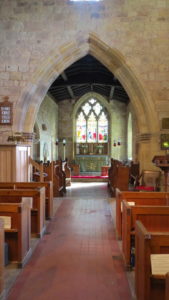 (Cousin Deborah left for home after Great Bowden yesterday.) Even though the Wilcocksons in Biggin were technically in the Wirksworth parish (where we visited on Day 2), they used the church at Kirk Ireton because Kirk Ireton is only 2 miles from Nether Biggin as opposed to 4 miles to St Mary the Virgin church in Wirksworth.
Three of tanner William Wilcockson's children with second wife Winifred Ollerenshaw were listed in the parish register baptisms at Kirk Ireton — his younger son William in 1604, Robert in 1612 and Anne in 1617. According to his will and the parish register, tanner William was buried in the churchyard in 1626, as was Winifred in 1648. She was buried as Winifred Allsop since she remarried Martin Allsop in 1628 after tanner William's death.
There are four Wilcockson gravestones remaining in the Kirk Ireton churchyard. One is for Peter Wilcockson from 1749, most certainly a descendant of our Puritan William's half-brother Peter, son of tanner William and Winifred, who inherited the tannery at Nether Biggin.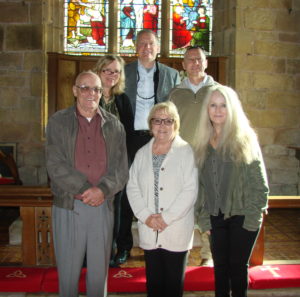 There is no record of my Puritan William's baptism at Kirk Ireton. There is a gap in the church records for a few years about the time my Puritan William was born ca. 1600. However, the baptism could have taken place at St Mary the Virgin church at Wirksworth instead of Kirk Ireton, but the parish register there doesn't start until 1608. Kirk Ireton's parish register starts in the 1570s with some Wilcockson baptisms, marriages and burials included — but unfortunately the church clerks didn't include any identifiers to indicate how these people were related to tanner William and my Puritan William. I think  some of the children baptized in the late 1570s-1590s could be tanner William's children with his first unknown wife.
Speaking of burials, burials in these Anglican churchyards can be several bodies deep, so tanner William could very well be four or more people deep by now. Sometimes the churchyard is several feet higher than the base of the church, forming a ditch around the church due to these multiple burials in one spot. However, Kirk Ireton and Wirksworth don't have a ditch. See the photo of St Botolph's church in Shepshed below. It has a ditch!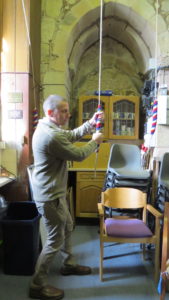 The service at Kirk Ireton was very special for all of us. I had informed the church that we would be coming so a greeting committee, including the minister and Kath, the church warden, was waiting for us. We all felt something special here. We were sitting where our Wilcockson ancestors had sat probably since the church was built in the 1100s.
At the end of the service we talked with members of the church and then took lots of photos. I asked if Barry could ring the church bells, and the response was a resounding Yes! (Someone at one of the other churches we had visited had mentioned that it took a strong man to ring the bells, so I volunteered Barry.) Once Barry got started, Chet rang another of the four bells. I couldn't let the opportunity pass so I rang a bell too. We thought Pat would get pulled off the floor if she tried, so she caught the very end of my bell rope and pulled with me. It was so cool! We rang the bells that called our ancestors to worship 400-500 years ago.
Trinity Church has changed very little since 1550 when the last addition was put on the 12th century church. The exterior and much of the interior looks just like my Puritan William saw it when he was a boy. If my Puritan William was baptized here, then the baptismal font that was used at that time is still with the church. This font was probably used for tanner William's three children. The church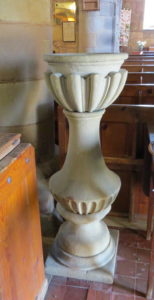 uses a more modern one now — one from the late 1600s.
We walked around the village after we left the church, taking in the serenity of Kirk Ireton. It's on a hill out in the middle of nowhere. You have to go off the beaten track to get there, but it's on what was once a direct route from Biggin to Wirksworth. Lots of photos of our walk through Kirk Ireton are below.
Next up was lunch at the Bear Inn in Alderwasley, recommended by Kath, the church warden. The inn looked like it had been around for a few centuries. What a delight! Lunch was a Sunday buffet with six or so types of meat, Yorkshire pudding, gravy, dressing and all sorts of veggies. We ended the meal with either treacle pudding with custard (heavy cream) or sticky toffee pudding (with a heavy molasses flavor) with ice cream. Both were thick bread puddings.
Margaret Harvie and Ilkeston
After a change out of church clothes, Marilyn, Pat, Chet, Robb and I headed to Ilkeston, Derbyshire where Margaret Harvie, Puritan William's probable wife, was baptized in 1611.
Long story short about Margaret: Her father and mother, James Harvie and Elizabeth Winfield, lived with her uncle Richard Harvie and his wife Ellen Horsley (the widow of John Hellot when they married) and their five Harvie children including Mary and Richard Jr. in 1616 when Richard made his will. When the Wilcocksons made their way to America on the Planter, they were in the company of Mary Harvie and her husband William Beardsley and their three children, plus Richard Harvie from Ilkeston, according to the customs house passenger list from 1635. Donald Lines Jacobus presented evidence that Richard Harvie, the Beardsleys and Richard Booth of Stratford, Conn. came to New England from Ilkeston in his 1961 article titled "English Clues: Booth, Harvey, Beardsley, Stratford, Conn." in The American Genealogist.
In the passenger list from the customs house in London Puritan William, Margaret and their son John Wilcockson had an Ann Harvie attached to their entry. John Wilcockson's and Ann Harvie's names were tucked into the margin at the bottom of the page immediately after Puritan William's and Margaret's names, so that leads me to think that Ann Harvie was traveling with the Wilcocksons since the clerk didn't spill her name over onto the next page where William and Mary Beardsley's family started the page. I believe Ann Harvie was Margaret Wilcockson's unmarried two-years-younger sister.
We know that the Beardsleys and Richard Harvie were from Ilkeston, so it makes sense that my Puritan William Wilcockson and his family were in the vicinity of Ilkeston too. We'll soon see that all of them – the Wilcocksons, the Beardsleys and Richard Harvie – were also in the vicinity of Rev. Adam Blakeman when he was lecturing in Derbyshire. All of them ended up at Stratford, Conn.
In Ilkeston Margaret Harvie lived among a strong reforming Puritan family. Her paternal aunt Ellen (Horsley) (Hellot) Harvie's sister Frances Horsley was married to the vicar of the church at Ilkeston (called St Mary's). Frances was the second wife of Rev. Thomas Lowe, who was also the minister at nearby Bilborough parish in Nottinghamshire. Lowe is known to have been a reformer, yet another Puritan Divine in the network of our Puritan William and his wife Margaret.
In addition to Rev. Lowe in Margaret's life, the Ilkeston manorial court records show Margaret's paternal uncle Richard Harvie being fined for lodging "beggars and rogues." When I found this notation a few years ago, my colleague Peter Foden who was researching with me at the time thought the beggars and rogues might be dissenters/Puritans who had come to Ilkeston to hear the reforming minister (Lowe) preach. People traveling outside their home parishes to listen to a Puritan lecturer were brought before the ecclesiastical courts and fined.
We now have Margaret Harvie in Ilkeston placed within a dissenting family. On top of that, her uncle Richard and her father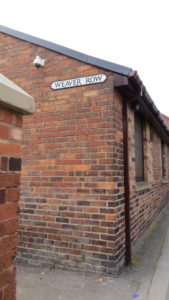 James were both weavers. Richard inherited five cottages from his father William Harvie in 1603 and he had two of them when he died in 1616. The cottages held his looms — two linen looms. Puritan William was a linen weaver, according to the Planter's passenger list. Did Puritan William work in Ilkeston which had a large cottage weaving industry at the time? Did he actually work in the Harvie weaving shop as an apprentice or as a hired weaver? Did he meet Margaret Harvie at a market day in Ilkeston? Did he meet her when they went to hear the same Puritan lecturer? We'll never know — but somehow he met Margaret Harvie of Ilkeston and together founded our Wilcockson/Wilcox family in America. By the way, Ilkeston still has an alley called "Weaver's Row" which we walked through today.
Rev. Adam Blakeman and Heage
Now let's add Rev. Adam Blakeman to the picture in Ilkeston.  After Blakeman was suspended from his post at Great Bowden in 1628, he showed up next at St Luke's parish in Heage in 1630 with the baptism of his son Samuel. Heage was part of Duffield parish at the time.
The Stanhope family owned Great Bowden when Blakeman was suspended. They also owned the manor of Heage, which they bought in 1628. Is it a coincidence that Blakeman is found at Heage after his suspension from Great Bowden and that the Stanhopes owned both manors — all in 1628? Probably not. Thanks to genealogist Celia Renshaw for ferreting out these manor/landlord links to our people.
Blakeman was the lecturer at Heage and was there through 1636 when two of his daughters, Ann and Abigail, were buried in the churchyard a day apart. Also while he was at Heage, in 1630 Blakeman was a beneficiary in the will of William Harries of South Wingfield, Derbyshire. The preacher at Heage before Blakeman, William Westerby, also received this annuity from Harries, according to the will. (Westerby was then at Pentrich, Derbyshire.) Both of these ministers who were associated with Heage were radical Puritan Divines. It's clear from Harries's will that the Puritan ministers were receiving support from reform-minded nobility, landlords and other wealthy people. (Thanks to researcher Celia for finding this one too.)
How does this all fit in with the Wilcocksons? Heage is only 11 miles from Ilkeston — close enough for the Wilcocksons to go listen to Adam Blakeman preach. It's possible that Blakeman was a wandering lecturer and traveled to preach at other parishes as well.
The year after the Wilcocksons, the Beardsleys and Richard Harvie left for America, in 1636 Blakeman, the lecturer at Heage, and Richard Rymer, the curate at Heage, were suspended. We don't know where Blakeman went at this point. It took Blakeman another two-three years to make the journey to America himself, sometime toward the end of 1638 or in the spring of 1639. Cotton Mather in Magnalia Christi Americana (1702) said that Blakeman went to America with members of his flock, with them telling him "wherever you go, we will go." It seems that the move to New England was planned by Blakeman and his followers, with some of Blakeman's flock like my ancestors leaving before Blakeman did. Blakeman and his devoted followers already in America (plus a few others) founded Stratford, Conn. in the spring of 1639.
Some flavour of our day:
When we stopped at St Luke's church at Heage, we saw the lights on inside the church. We discovered that we had stopped about 1/2 hour before Evensong. We were welcomed into the church. Pat saw the organ and mentioned that at the churches she has attended in the U.S., the music is supplied by a piano or small organ. The organist at St Luke's proceeded to play the organ as Pat and I listened. (Chet and Marilyn were exploring the churchyard and didn't come in.) The building at Heage was not standing when Blakeman was posted at Heage. The wooden church had been destroyed by a storm in 1545 and wasn't rebuilt until 1661.
On our way to Ilkeston, we encountered a tractor coming up the hill on a one-lane road while we were going down — with no pull overs for vehicles to pass each other. Guess who had the right of way! First I had to get the left side of the SUV away from the bushes where I had instinctively headed. Then I had to back the car up the hill a bit of a distance to find a pull over. We laughed and said we should have taken a photo. It turns out Robb did. Robb was behind us and captured the end of the adventure.
For the trip to Ilkeston, I had contacted the church in advance and was told that the church was open during the day. Well, it's open during the day only on weekdays, so we found all the doors locked when we got there on a Sunday afternoon. Fortunately, an employee happened to stop to get something. We waited for her to come out. I explained who we were and asked if there was any way we could see inside. She said, Yes, there is. She got the key to the sanctuary and let us in. This church was modernized in the Victorian era (1800s) so there is little surviving of the Norman church from the 1200s that the Harvies in the 1500s and 1600s would have known.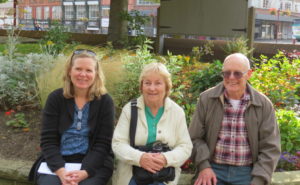 Cheers!
Kirk Ireton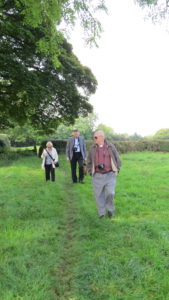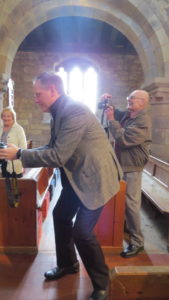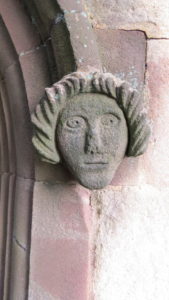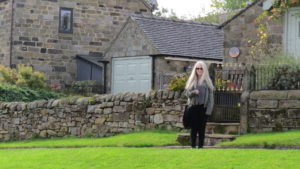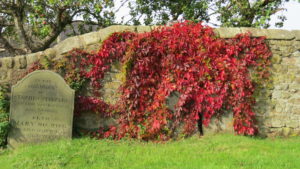 Posted on by Jane Wilcox
Categories
---
---