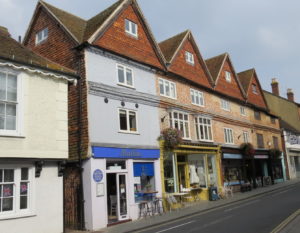 Copyright © Jane E. Wilcox, Forget-Me-Not Ancestry, Albany, NY www.4getmenotancestry.com.
In September 2017 I led a tour to Derbyshire, England, in search of my Puritan ancestors William Wilcockson and his wife Margaret. They came to New England on the Planter in 1635 with their two-year-old son John Wilcockson and Ann Harvie, whom I believe to be Margaret's sister. They came during the Puritan Great Migration 1620-1640. With them on the Planter were Margaret's first cousins Richard Harvie and his sister Mary Harvie with her husband William Beardsley and their three children Mary, John and infant Joseph. This homecoming trip with my cousins in 2017 culminated my research on the Wilcocksons of Biggin-by-Hulland, the Harvies of Ilkeston and their minister Rev. Adam Blakeman/Blackman (who founded Stratford, Conn. with them in 1639) that I undertook on three genealogy research trips to England between 2000 and 2015.
On this trip my cousins and I followed in the footsteps of Puritan William and Margaret Wilcockson (not spelled Wilcoxson as many have tried to modernize it) from their origins in Derbyshire, England, to their exposure to non-conformist ideas that eventually caused them to emigrate to America, to the churches they attended, to their dissenting Puritan network of family and friends, to their journey to the port of London to take passage on the Planter in 1635. While in England I sent daily emails to about 50 of my extended family and friends, as I had done in the past with the three other research trips, sharing our journey with them. The emails sent during the trip have been expanded and fact-checked to present here as blog posts. When you are reading my account of Puritan William in England, keep in mind that this is a  proposed family of origin for William Wilcockson of Stratford, Conn. based on the evidence in the available records. Think "probable" and "probably" when you read Puritan William's story. 
Down the road I will write a series of articles giving the documentary evidence as to why I believe Puritan William was the son of tanner William Wilcockson and his first unknown wife from Biggin-by-Hulland, Derbyshire, and why Puritan William's wife Margaret was Margaret Harvie, daughter of weaver James Harvie and his wife Elizabeth Winfield from Ilkeston Derbyshire — and not Margaret Birdseye or Birdsey as has long been erroneously held. These articles will contain more details and all of the sources I used to compile the evidence, as well as the genealogies of the Wilcockson, the Harvie and the Blakeman families in England in the 1500s and early 1600s.
Day 7
Day 7 was one of those days. I woke up at 2:30am and couldn't get back to sleep. We stayed overnight in Amesbury near Salisbury where a clock tower chimed the hours. I was asleep shortly before 10:00pm and woke up at 2:30am, and  then I heard every chime from 3:00am to 6:00am while I waited for the alarm to go off at 7:00. No need for the alarm afterall. I was fried by the time we ended our day.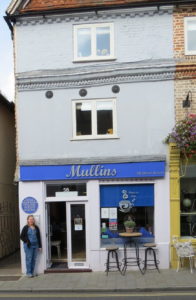 Nevertheless, the day contained one of the highlights of the trip for me. When I was only four years old or so, I was told that my great great great great great great great great great great (that's 9) grandparents were John Alden and Priscilla Mullins of the Mayflower. Every Thanksgiving my mom even typed out on an index card that "Jane's great great great…. grandfather was John Alden," and I took that index card to school and handed it to the teacher who proceeded to read it to the class. (This happened maybe until I was in second grade before I got embarrassed.) So John Alden and Priscilla Mullins were my first introduction to the concept of genealogy.
Well, today on our way back to Hertz at Heathrow to drop off the car, we stopped at Dorking, Surrey, where Priscilla Mullins's father William owned a house. It's actually four separate stores now, as Nos. 58, 59, 60 and 61 on West Street. The house was built in the 1550s. A shoemaker, Mullins bought it in 1612. Priscilla, her father and his second wife, their son Joseph, and a servant all came over on the Mayflower. All but Priscilla died the first winter. Within a year or so Priscilla married John Alden, the cooper for the ship. I descend from their son Joseph.
William Mullins was an investor in the voyage rather than a Separatist, one of the religious pilgrims making the journey. Separatists were even more radical than the Puritans. They wanted to separate themselves from the Church of England rather than reform it. In England they are known as Brownists for Robert Browne. Browne was from Leicestershire – and as we now know, Leicestershire is very near the Wilcocksons in Biggin. So many different reform ideas were roiling around in the vicinity of the Wilcocksons in Biggin-by-Hulland, Derbyshire. (Puritan Divine John Cotton — in Boston, Massachusetts Bay when my Puritan William and his family arrived in New England — was born in nearby Derby, Derbyshire.) It's no wonder my Puritan William got caught up in the religious fervor of the Puritans.
One of the stores in Dorking is named "Mullins." Another store had hand-made pottery made in Poland, so I bought a bowl to remember my visit. I was surprised that a building from the 1550s was made of bricks. That may be a regional variation. I associate the wooden framed white stucco buildings from this period.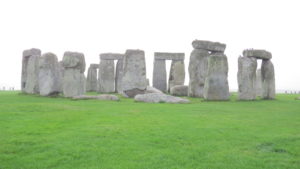 Before we went to Dorking, we went to Stonehenge first thing in the morning. At the exhibition inside, one of the volunteers engaged our group and began to explain a video that we were watching. Upon questioning from us, he then took us out into the exhibit and explained more. We had an impromptu guided tour of sorts. From there we took the shuttle out to the stones. I had been here on my last trip, doing the special access where you get to walk among the stones (but not touch them!) rather than walk on the walkway around the stones. It still was wonderful to be able to see them again albeit from a distance. The crows, who are the keepers of the stones, came out to the boardwalk to greet us as we walked by.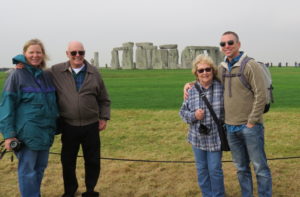 We returned the rental car after Dorking and took a shuttle to our hotel in London. We are now in London to resume our Wilcockson journey.
As I have done on every visit to London, we found an Indian restaurant and enjoyed what I think was one of the best Indian meals I've ever had. This one certainly made up for the first time here when I was so disappointed in the Indian restaurant I'd chosen. The hype about London Indian food that I had heard before I came to London the first time didn't match the meal. This one did and then some. Yum!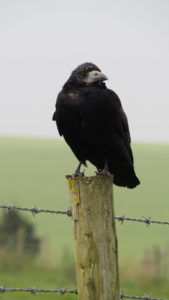 As I write this it is early morning on Day 8. I was asleep by 8:00pm last evening, I had a good sleep and I'm raring to go. It will be a busy day.
Cheers!
Posted on by Jane Wilcox
Categories
---
---