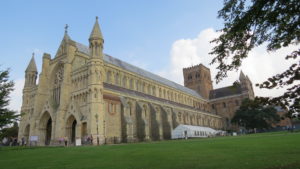 Copyright © Jane E. Wilcox, Forget-Me-Not Ancestry, Albany, NY www.4getmenotancestry.com.
In September 2017 I led a tour to Derbyshire, England, in search of my Puritan ancestors William Wilcockson and his wife Margaret. They came to New England on the Planter in 1635 with their two-year-old son John Wilcockson and Ann Harvie, whom I believe to be Margaret's sister. They came during the Puritan Great Migration 1620-1640. With them on the Planter were Margaret's first cousins Richard Harvie and his sister Mary Harvie with her husband William Beardsley and their three children Mary, John and infant Joseph. This homecoming trip with my cousins in 2017 culminated my research on the Wilcocksons of Biggin-by-Hulland, the Harvies of Ilkeston and their minister Rev. Adam Blakeman/Blackman (who founded Stratford, Conn. with them in 1639) that I undertook on three genealogy research trips to England between 2000 and 2015.
On this trip my cousins and I followed in the footsteps of Puritan William and Margaret Wilcockson (not spelled Wilcoxson as many have tried to modernize it) from their origins in Derbyshire, England, to their exposure to non-conformist ideas that eventually caused them to emigrate to America, to the churches they attended, to their dissenting Puritan network of family and friends, to their journey to the port of London to take passage on the Planter in 1635. While in England I sent daily emails to about 50 of my extended family and friends, as I had done in the past with the three other research trips, sharing our journey with them. The emails sent during the trip have been expanded and fact-checked to present here as blog posts. When you are reading my account of Puritan William in England, keep in mind that this is a  proposed family of origin for William Wilcockson of Stratford, Conn. based on the evidence in the available records. Think "probable" and "probably" when you read Puritan William's story. 
Down the road I will write a series of articles giving the documentary evidence as to why I believe Puritan William was the son of tanner William Wilcockson and his first unknown wife from Biggin-by-Hulland, Derbyshire, and why Puritan William's wife Margaret was Margaret Harvie, daughter of weaver James Harvie and his wife Elizabeth Winfield from Ilkeston Derbyshire — and not Margaret Birdseye or Birdsey as has long been erroneously held. These articles will contain more details and all of the sources I used to compile the evidence, as well as the genealogies of the Wilcockson, the Harvie and the Blakeman families in England in the 1500s and early 1600s.
Day 6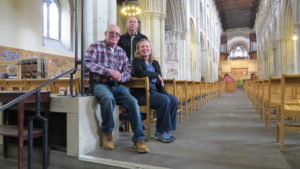 We made our way south today, stopping in St Albans, Hertfordshire, which is about 115 miles southeast of Biggin and 25 miles northwest of London. St Albans was a crossroads from all directions in England during Roman times. (The Roman army began its conquest of England in 43AD.) St Albans was still a crossroads during Puritan William Wilcockson's time.
St Albans cathedral is where our Puritan William Wilcockson had a minister sign a certificate of conformity, affirming that Puritan William was a member in good standing in the Church of England. (We know he wasn't a "good" member — he was a dissenting reform-minded member. One of the archivists at the Hertfordshire Records Office where I did research on my first trip to England in 2002 called this minister a "renegade" minister because he was non-conforming.) Puritan William also made an oath of allegiance to the king of England (Charles II at the time), saying that he would be loyal to the king when he traveled across the seas. These oaths of loyalty and church conformity were required for all people leaving England to sail across the seas starting at the end of 1634. Our Puritan William departed in the spring of 1635.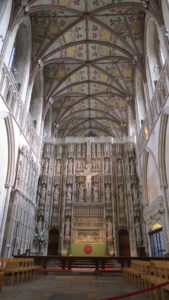 How did Puritan William and his family end up in St Albans — where many Wilcox/Wilcockson family researchers in the past thought he was from? Well, we need to turn to the Tuttle family who lived in Ringstead, Northamptonshire. Three Tuttle brothers were also leaving for America at the time the Wilcocksons, the Beardsleys and Richard Harvie were leaving. Two of the brothers (Richard and William) lived in Ringstead; the third (John) in St Albans. Ringstead is a stone's throw from Titchmarsh, also in Northamptonshire. Titchmarsh was where Rev. Adam Blakeman was married in 1624, as discussed on Day 3. Titchmarsh was also where the staunchly Puritan Pickering family lived. The Pickerings owned the manor of Ringstead in 1635. Might Rev. Adam Blakeman have been in contact with the Pickerings 10 years later? Might Rev. Adam have used the Puritan network that was well-established in England to help members of his Derbyshire flock leave? It seems a strong possibility.
On the certificate signed by a minister at St Albans cathedral was the Tuttle brother and his family who lived in St Albans. John Tuttle was traveling with his wife, her children from her first marriage, their children together, his wife's mother and several servants. In all there were 38 names on this certificate from St Albans, including our Derbyshire families. (The certificate story will continue on Day 8.)
St Albans in 1635 when our Derbyshire families were passing through was just a cathedral. It had also been an abbey until Henry VIII dissolved the monasteries in England in the 1530s. If Puritan William and Margaret went inside the cathedral to have the minister sign the certificate there, they might have found the walls whitewashed, which might even have happened during the reign of Henry VIII's son Edward VI who was a staunch Protestant. (If not whitewashed under Edward, then the walls would definitely have been whitewashed during the Commonwealth period under Puritan Oliver Cromwell.) Some of the whitewash has been removed and we can see what were once brightly painted murals on the pillars of the cathedral today.
A shrine to St Alban is inside the cathedral. Pilgrims visited the site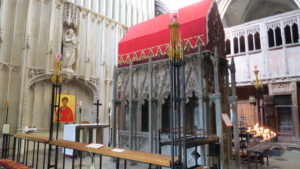 where St Alban's bones lay in a golden box until 1539, during the time that Henry VIII dissolved the monasteries in England and broke with the Catholic Church in Rome. St Alban was the first Christian martyr in England after the Romans beheaded him sometime in the 3rd or 4th century AD.
St Alban lived in Verulamium, then the Roman crossroads now known as St Albans. A Roman wall and a mosaic are the only visible signs of the Romans at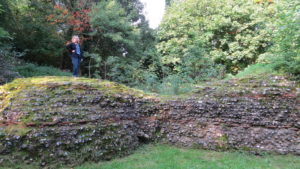 St Albans today. We walked from the cathedral to the park that has the Roman wall and the mosaic. Some of us also walked on the Roman wall. It was pretty cool seeing the remains of the Romans in Great Britain from about 2000 years ago.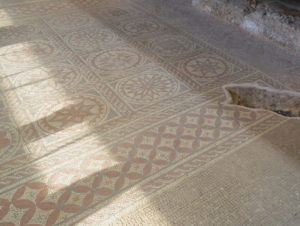 On our way to see the mosaic we had a magnificent view of the cathedral perched on top of the hill overlooking the city. The site of the cathedral and abbey lay outside the Roman city of Verulamium. See below.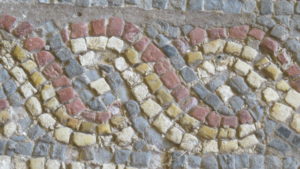 Walking through the park on our way back to the car, we stopped to watch a duck try to eat a fish that was too big to swallow while a swan looked on hopefully. The duck finally dropped the fish. Chet put the fish in the water for the swan to take but the swan cautiously backed away. Another duck scooped up the fish and swam away.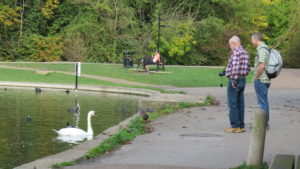 After that we stopped in to see the oldest (reputedly) inn in Britain — the Fighting Cock. The sign said a house was built on this site in the 1400s (over the remains of a gate that was part of an eighth century monastery) which was destroyed by a flood in 1599 and then rebuilt as a public house in 1600. When cock fighting was outlawed in England in 1849, it was renamed The Fisherman. We didn't stay for a drink but we did stay to take a few photos inside. See below.
For lunch we ate at a Thai restaurant and found out the king of Thailand died about nine months ago and is resting in state for viewing until the end of December (2017) when they will have the official cremation ceremony. I did not know. The genealogist in me had to ask about the body. I guess it's embalmed and in a case for viewing until the cremation.
For dinner, I finally found a place that had bangers and mash — sausages and mashed potatoes. I've been looking since we arrived. Sorry — bangers and mash may have come too close to the embalmed body.
See Spout Barn, where we stayed in Derbyshire, in the last photos. We thoroughly enjoyed our stay there with the open kitchen, dining and sitting area. One bedroom adjoined the open space upstairs and two bedrooms were downstairs on ground level.
Cheers!
Ye Olde Fighting Cock and St Albans Cathedral in St Albans, Hertfordshire and Spout Barn in Shottle, Derbyshire.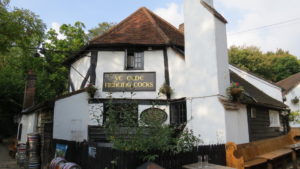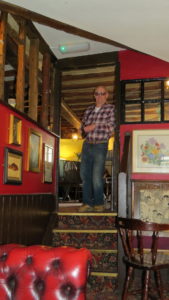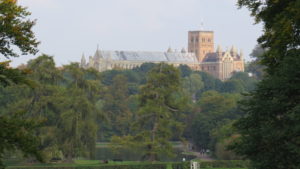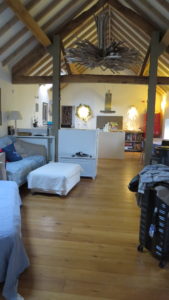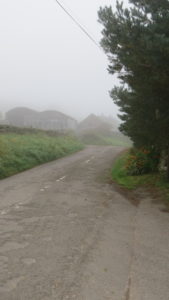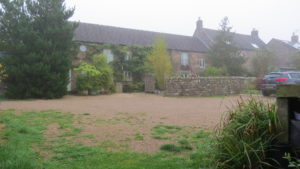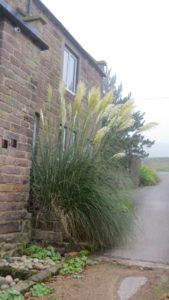 Posted on by Jane Wilcox
Categories
---
---