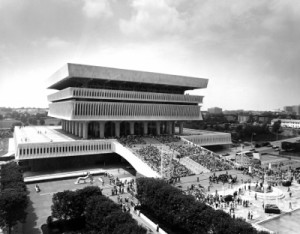 In January Dr. Jim Folts, head of Research Services at the New York State Archives at the Cultural Education Center in Albany, joined me on the Forget-Me-Not Hour to talk about the many facets of the state archives. I have known Jim for a number of years in the course of my own and client research at the state archives. His knowledge of the archives is unsurpassed!
The archives holds records from all state agencies from the executive, legislative and judicial branches of New York state government back to colonial New Netherlands times. Jim focused on records that would most interest genealogists. He talked about military records — from the Revolutionary War to World War I (New York colonial war records are also in the collection), vital records from the New York State Department of Health, wills and probate records (most colonial wills are now all at the New York State Archives, having previously been in New York City), tax records and a few little-used gems like state employment records, prison records and poor house records. An index for the New York state vital records recently been created by the state department of health, starting with death records currently from 1957 to 1963. I found my grandfather Wilcox's death in 1959 listed.  https://health.data.ny.gov/Health/Genealogical-Research-Death-Index-Beginning-1957/vafa-pf2s?
Jim also discussed what records have been digitized by Ancestry.com and are available without a subscription to New York residents through this portal: http://www.archives.nysed.gov/a/research/res_ancestry.shtml. I have included Jim's list of records available on Ancestry as of January 2014 here: Ancestry digitized records UPDATE 201401

As a result of the state capital fire in 1911, many of the early New York state records were destroyed — a very sore point for New York researchers. However, some of the lost records had been previously transcribed and published before the fire. Jim included the 13-volume Documents Relative to the Colonial History of the State of New York and New York in the Revolution as Colony and State as examples.
Jim recommended looking at the state archives website  http://www.archives.nysed.gov/aindex.shtml and then contacting archivists before you make a visit. The New York State Archives is currently (January 2014) open Monday through Saturday from 9:30 to 4:30, with original document retrievals two or three times a day. Some documents may be off-site so find out in advance if you need to pre-order them before your visit.
Listen to the show: http://www.blogtalkradio.com/janeewilcox/2014/01/08/new-york-state-archives-with-jim-folts
Posted on by Jane Wilcox
Categories
---
---