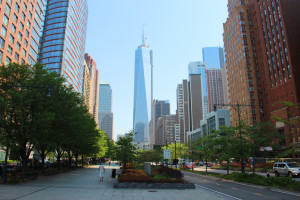 We had a fun show on the Forget-Me-Not Hour on 15 February when Annaline Dinkelman joined me to talk
about the history of Wall Street in lower Manhattan and how our ancestors were impacted by some of the more significant developments in the banking industry and stock market from the early days of the federal government. Annaline is the owner of Walk Street Walks, the first guided walking tour company in New York City to focus exclusively on the stock market and financial history. Before the show aired, Annaline gave me a private tour of the area in preparation for the interview.
Annaline started out by giving an audio tour of the famous street. Wall Street was originally a wooden stockade fence at the northern edge of New Amsterdam and was erected in 1653 — much later in New Amsterdam's Dutch history than I had imagined. One hundred thirty plus years later, Wall Street was the site of George Washington's inauguration as the first president of the United States. The building where the ceremony took place was New York City Hall, which was renamed Federal Hall when it became the seat of the federal government. Washington's Secretary of Treasury, Alexander Hamilton, lived on Wall Street and conceived the plan for the federal banking system. Stock market trades took place under a tree on Wall Street, just down the block from Federal Hall. The stock exchange had a few different locations over the years.
Our ancestors were impacted financially during and after the Revolutionary War when they were given IOUs as payment for horses, food and other things that the army needed to fight the war. Soldiers were given land in western New York and in Ohio as payment for their services. The IOUs lost their value, so speculators like Abigail Adams, bought the IOUs at 1/3 of their value. When the federal government paid the IOUs, they paid in full. Annaline told us more about Abigail Adams and her investment savvy.
Annaline talked about how the stock market news was communicated in the early days (think flags, fires and pigeons) and when our commoner ancestors started to trade in the stock market. (The stock market was once only a rich-man's world.) When the stock market crash of 1929 occurred, more of our ancestors than ever before in the history of trading were impacted because of the wide-spread encouragement of the federal government to buy bonds.
Find out more about the history of the stock market, Wall Street, the federal banking system, the oldest standing buildings in Lower Manhattan that have survived from the 1700s and early 1800s and the women of Wall Street here: http://www.blogtalkradio.com/janeewilcox/2014/01/15/wall-street-walks-financial-district-tour-and-history-with-annaline-dinkleman
Posted on by Jane Wilcox
Categories
---
---