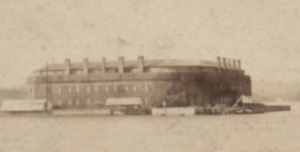 Last week the presenters of the New York Track at the National Genealogical Society's 2014 family history conference in Richmond, Virginia, joined me on the show, live from the New York Genealogical and Biographical Society (NYG&B) office in Midtown Manhattan. The presenters of the NYG&B-sponsored track include Naomi Joshi, Terry Koch-Bostic, Joan Koster Morales and myself. We had a ball!
Terry started the show by explaining why the NYG&B sponsored a track this year, and then we all took turns talking about the exciting lineup of New York genealogy topics at this year's conference. Topics include "Misspelled, Misunderstood or Deliberate? Are Your New York Ancestors' Records Hidden Under a Surname Variation?" by Terry, "Navigating the Past: Gazetteers and Genealogists" by Naomi, and "New York's Confederate Prisons: Elmira and New York City" by Joan. Naomi closed the lineup, telling us about the NYG&B Luncheon talk, "How to assemble a weighty genealogical tome and survive the experience!"
I asked each presenter what we would learn from her talk, what inspired her to do the talk, and what unusual things she discovered in the course of creating the talk. Terry then shared how to register for the conference and how to access the first-ever streaming of several lectures from the NGS conference if you can't make it to Richmond.
Due to Skype connection difficulties, we lost the tail end of Joan's discussion on the Confederate prisons and all of Terry's discussion
of her "Upside Down Migration: South Carolina to Nova Scotia to New York" and my discussion on "Looking for Your New York Tenant Farmer: Little-Used Resources." The broadcast breaks on three occasions, but resumes almost immediately, creating a 45-minute show.
Join the New York presenters at the Greater Richmond Convention Center in Richmond, Virginia on Thursday, 8 May 2014. The conference runs from 7-10 May. Find out more about the NGS conference here: http://www.ngsgenealogy.org/
Listen to the NY Track radio show here:
http://www.blogtalkradio.com/janeewilcox/2014/03/20/ny-track-at-ngs-richmond-2014
Photo: Fort Lafayette (Confederate prison), by Deloss Barnum, NY Public Library, Photography Collection, Miriam and Ira D. Wallach Division of Art, Prints and Photographs
Posted on by Jane Wilcox
Categories
Tags
---
---