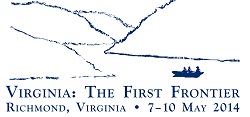 Last week the Forget-Me-Not Hour was broadcast live from the National Genealogical Society's annual family history conference held in Richmond, Virginia this year. I interviewed conference co-chair Jan Alpert as we sat outside the exhibit hall at the Greater Richmond Conference Center — so you will hear a little audio background noise.
Jan gave a great recap of the conference, the first one to have live streaming of a few of the lectures. (You can still hear the ten lectures. They are available until 31 May by registering here:  http://www.playbackngs.com/774-ngs-streaming-packages.html)
Jan talked about some of the sessions and tracks from the four days of the conference, as well as research at the nearby Library of Virginia, where I had a wonderful discovery about my one and only Virginia line. Jan also gave the names of the NGS award winners for publications, articles, and work in the field of genealogy, and she shared the story of the Nottoway Court House Bible that a NY Civil War soldier "saved" in 1864 and that was returned to its native soil at the conference when it was given to the Library of Virginia — a very touching start to the conference.
We discussed why it's important for any genealogist to attend a conference like this, and Jan shared some "aha" moments experienced by some of the conference attendees. Hearing about the breakthroughs is always fun for me.
See you next year in St. Charles, Missouri from 13-16 May.
Listen to Jan's inteview here: http://www.blogtalkradio.com/janeewilcox/2014/05/10/ngs-richmond-recap-with-jan-alpert
Posted on by Jane Wilcox
Categories
Tags
---
---